I think almost everyone agrees that Boss Media Casinos deliver about the smoothest feel of all the software. The graphics are super sharp, the table games are multi player and have the chat feature to talk with the other players. You can set it for Private and play by yourself, or just let in a select few players or friends! It's a pretty nice feature actually that isn't exploited much by Boss Media. If you wanted to set up a private room for your own party, you could do so in 2 seconds!
The card games are set up to accommodate anyone's budget starting with $1.00 table minimums. Presently some have upgraded their software to include Multi Player Craps and Single Deck Blackjack. Needless to say, the Single Deck Blackjack is not multi-player like the multi deck is! To our knowledge, Boss is the only provider that has these two games. The blackjack table gives a BIG feel to it. Spread out nicely and has a roomy feel to it. This is the smoothest software of them all! It's hard to describe, but the cards are fast and they sort of glide right out! Super Smooth!
Much like Cryptologic Casinos, Boss Media payouts to winners are done thru one central location called Web Dollar. There is never a problem getting paid from these guys. Also like Cryptologic, they will send you a pin # that you will use to cash out with.
Boss Media casinos, as a rule, don't offer huge new player sign up deals. Usually 20 to 40 dollars. I have recently seen a trend though where a few are upping the ante! I've played all of these! Most are taking Fire Pay and Neteller these days, so making a deposit is easy than ever!
As you can probably tell.....I like Boss Casinos! Try a few out!
Here are a couple of screen shots from the inside of one! When you get inside, they almost feel REAL!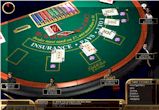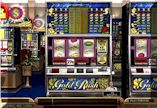 Temporarily out of Cash? Need a FIX?
Check out these 4 Shockwave Games Courtesy of The Boss!
These aren't anything like the nice download version, by the way!
There are 4 games here. Blackjack and Roulette on the first page and Video Poker and Slots on the second! Go ahead, give it a try!
Click Here!